18 Oct

Unanimous approval for major new build-to-rent residential scheme in Sheffield

PLATFORM_ Press Release: 17th October 2018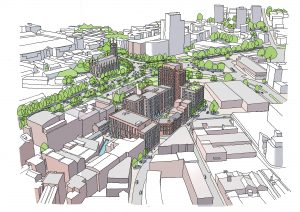 PLATFORM_, a leading developer and operator of private rented housing, has secured planning permission for 335 high quality homes designed exclusively for rent in Sheffield city centre.
PLATFORM_, which already has over 600 homes under management in key commuter towns and employment hubs across England, is embarking on this new-build development which will deliver 335 homes in the Steel City, as well as a host of on-site amenities.
The site is located near to The Moor shopping centre and the Sheffield Retail Quarter, and sits less than a ten minute walk from Sheffield train station. It will form part of the wider £480m regeneration of the Retail Quarter, which is set to be completed in 2019.
Designed by TateHindle Architects, the new homes will be a mix of studio, one, two, and three bed apartments spread across two blocks ranging from five to 14 storeys in height. Over 2,500 sq. ft. of amenity space will be provided as well, including two residents' lounges and a top floor gym with stunning views across Sheffield. The entire development will be professionally managed for the long term by PLATFORM_, with an on-site concierge service, responsive maintenance and flexible family-friendly tenancies of three years on offer too.
PLATFORM_ will also give residents exclusive access to a dedicated bike club, with storage and workshop space available, allowing residents to tap into a neighbourhood cycling community. Recent years have seen Yorkshire's rich cycling tradition go from strength to strength, with the Tour De France finishing in Sheffield in 2014, and the establishment of the Tour De Yorkshire in 2015.
Once finished, PLATFORM_'s development will become a vital part of the city centre, with a revamp of the external area including a new public walkway along the Porter Brook, and approximately 1,500 sq. ft. of new retail opportunities, as well as 6,000 sq. ft. of dedicated co-working space.
Sheffield has seen a sharp increase in investment in recent months, with the council hailing the unprecedented number of planned developments last year, and the population is set to grow by over 85,000 people in the next two decades.
Earlier this year PLATFORM_ acquired a two-acre site in the heart of Glasgow, which will deliver around 500 high quality purpose-built rental homes overlooking the River Clyde. This was a major step towards the company's plan to secure 5,000 units within five years, building on its current pipeline of 1,000 apartments.
Jean-Marc Vandevivere, Chief Executive at PLATFORM_, said:
"This is a huge opportunity to raise the bar for city centre living in Sheffield. We at PLATFORM_ are delivering purpose-built rental housing that gives residents a quality home with professional service and additional on-site amenities – all of which are currently lacking in the traditional private rented sector – as well as contributing to the revitalisation of the city centre."